Bachelor of Education (B.Ed.)(2 Years)
Affiliation
Himachal Pradesh University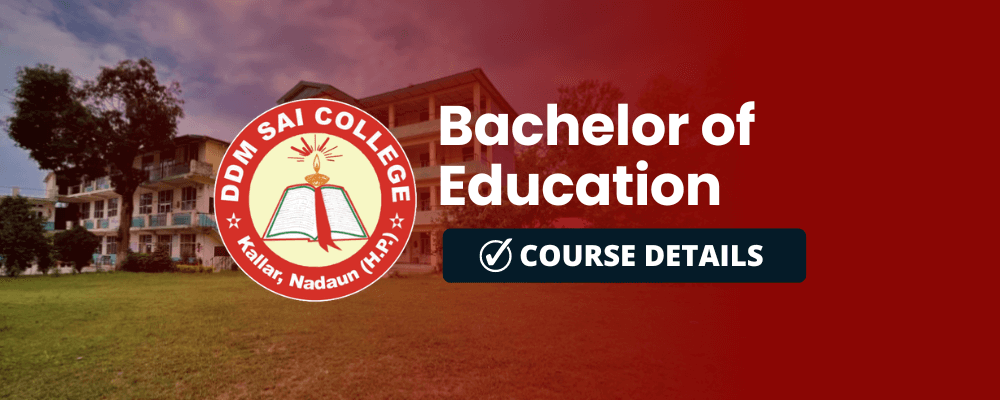 B.ED. COURSE ELIGIBILITY AND EDUCATIONAL QUALIFICATIONS 
B.Ed. (2 Years) Annual Intake: 100 Seats.
The candidates with at least 50% marks or 5.01 if CGPA or Grade B if letter Grade in the Bachelor`s Degree(Medical/Non-Medical/Commerce/Arts) and/or in the Master`s Degree in Sciences/Social Sciences/Humanity/Commerce, Bachelor`s in Engineering of Technology with specialization in Science and Mathematics with 55% marks or 5.51 if CGPA or Grade B+ if in letter Grade or any other qualification equivalent thereto. At least 45% marks or 4.51 if CGPA if in the letter Grade in
case of SC/ST/OBC/Physically Handicapped categories in the aforesaid Bachelor`s /Master`s Degree and 50 % marks or 5.01 if CGPA or Grade B for Bachelor`s in Engineering or Technology from a recognized University established by law in India are eligible for admission to the programme.
Note: No relaxation, even 0.01% in the above prescribed percentage of marks shall be granted under any circumstances.
Age Limit:
There is no upper age limit for candidates applying to the regular B.Ed. Course of two Years. (High Court orders in LPA No.: 104 of 2012 decided on August 27, 2012)
Duration (Time Frame) of B.Ed. Course: 
The Course duration for B.Ed. Course is 2 Years.
The B.Ed. programme through regular mode shall be of a minimum period of two academic years (spread across four semesters) and a maximum of three academic years from the date of admission of the candidate. There shall be at least 100 working days in each semester exclusive of the period of examinations and admissions with 600 teaching clock hours (each working day having 6 teaching clock hours). 
The minimum attendance of students shall be 80% for Theory Courses and Practicum and 90% for Field Attachments/School Internship/Practice Teaching and no relaxation will be permissible. 
The Syllabus for B.Ed. (2 Years)
The Bachelor of Education Course is designed to provide professional education and training in teaching, teacher education, and educational administration. It is a three-year course and the course aims to produce graduates who are competent in the theoretical knowledge and skills required for teaching, teacher education, educational administration, and other related areas.
This Bachelor of Education Course Syllabus has been prepared by Himachal Pradesh University. The syllabus includes details about the content that will be taught as well as the weightage of each topic in the examination.
Bachelor of Education Course by Himachal Pradesh University Syllabus PDF File Download
The Fee Structure will be same as prescribed by the Govt. of H.P. (Per Annum)
DDM Sai College Documents